Register as a New Patient
We welcome registrations from new patients living within our Practice Area. We require you to fill in a GMS1 form and a new patient questionnaire; these are available online below. Please note you will need to attend the surgery to sign these documents,
We would ask that you also bring ID (e.g. passport, driving licence etc) and proof of residency (e.g. utility bill, rental agreement, statement etc.)if possible.
Children registering at the surgery that are under the age of 16 follow the same process as an adult but will need to have at least one a parent or guardian also registered at the practice and for them to be present during the registration process.
You may also wish to register for our online service through which you can book appointments and order repeat medication. Please complete the Online Registration Form and bring it to reception, with ID to get your "Account Log" In details.
USEFUL INFORMATION FOR ALL PATIENTS
WELCOME TO THE PRACTICE - IMPORTANT INFORMATION BELOW ON THE BEST WAYS TO ACCESS OUR SERVICES
URGENT APPOINTMENTS - You can call at 8am for URGENT / SAME-DAY MORNING appointments on 01202 309421 or 01202 587111 or call at 12pm for URGENT / SAME-DAY AFTERNOON appointments. Clinicians can really only deal with ONE problem in an URGENT appointment slot so please prioritise the most important problem if you do have more than one. We have a highly skilled team of Advanced Nurse Practitioners and Paramedic Practitioners who are usually your first contact for acute problems. If it's an ongoing problem or something they feel you need to see a Doctor about, you will be referred on to a GP.
ROUTINE APPOINTMENTS - For NON-URGENT matters, you can book further ahead with your Usual GP, this may involve a wait of a few weeks but if it becomes more urgent you can always call us for a same-day appointment.
CANCELLING APPOINTMENTS - Please try and cancel appointments in plenty of time if you no longer need it or can't attend. So much clinician time is wasted with patients who don't attend, making the wait time for booked appointments much longer. You can cancel appointments online with your NHS App login or SystmOnline login, you can email us on smh.mc@nhs.net or you can phone our cancellations line and leave a message by selecting option 3 when you call the main number, this bypasses the queue to speak to a Receptionist.
E-CONSULTATIONS - You can access lots of health advice for many conditions via E-consult. You can also complete an online form which goes directly to your GP where you can attach photos and provide a description of your symptoms. We will contact you within a couple of days either with advice, or a prescription or to advise that you need to come in and see a clinician or have a telephone consultation. Lots of patients find this a convenient way to consult with the Surgery and avoids waiting on the telephone. Consult Online from Home - Shelley Manor & Holdenhurst Medical Centre (webgp.com)
ONLINE ACCESS - You can request SystmOne-online access by bringing in some photo ID and filling in a form. You will be able to link this to your NHS App. This will enable you to request prescriptions, view test results, look at your health record, complete online questionnaires and book a small selection of appointments electronically.
PRESCRIPTION REQUESTS - We don't take prescription requests over the telephone. The best way to request your repeat prescription is via your SystmOnline login or via the NHS App. There, you can request repeat prescriptions only (this can be done 7 days before they are due) and there is a facility to write notes related to your request or if you need any items that aren't listed. You can email if you prefer to shelley.scripts@nhs.net or you can put your request in writing and leave it in the box at Reception or hand it in to the Receptionist. Please leave at least 2 full working days for your prescription to be processed. Most prescriptions are now sent electronically to your nominated pharmacy. Please make sure you have informed us which pharmacy you'd like us to send your prescription to.
FACEBOOK PAGE - We have an active Facebook community and often share useful information for patients this way. Things like local community activities that you may be interested in and health related news and campaigns. Please take a moment to like and follow the page so you don't miss anything! https://www.facebook.com/SMHMedicalCentre/
FRIENDS OF THE PRACTICE - We have a lovely group of patients who meet up regularly, as a representative of our patient population, to support the Practice. They are currently trying to set up some new activities to engage with our patients (an Art group initially) to encourage an active community who support each other. The aim of this is to prevent lonliness within our patient population. They also try and find ways to help us make improvements to the services we provide and spread information to the wider community. If you would like to get involved with this group please get in touch by email to smh.mc@nhs.net
CARERS - Unpaid carers do an invaluable job, looking after their friends or relatives who just couldn't manage without their help. Please let us know if you look after someone. We have lots of information available to carers as well as local support available. Email us on smh.mc@nhs.net so we can add you to our Carer's register and then head to the CRISP website for more information. If you look after someone, we're here for you. (crispweb.org)
ZERO TOLERANCE POLICY - We are here to help you. Our staff have the right to be treated with dignity and respect at all times without the risk of threatening behaviour or violence. This behaviour will not be tolerated towards staff, and may result in offenders being asked to leave, and could be removed from our patient list.
BANK HOLIDAYS AND WEEKENDS - Your GP surgery is closed on Bank holidays and weekends. If you require medical assistance, you can contact the Walpole Road Walk in Centre on 01202 720174 and book an appointment (Unless it is a life-threatening emergency, then please contact 999). They are open from 8am to 8pm. You will need to book an appointment prior to attending the surgery. The surgery address details are: Boscombe and Springbourne Walk-In, 12-14 Walpole Road, Boscombe, Bournemouth, Dorset, BH1 4HA. If you require medical assistance outside of these hours, then please contact 111.
Temporary Patient Registrations
If you are ill while away from home or if you are not registered with a doctor but need to see one you can receive emergency treatment from the local GP practice for 14 days. After 14 days you will need to register as a temporary or permanent patient.
You can be registered as a temporary patient for up to three months. This will allow you to be on the local practice list and still remain a patient of your permanent GP. After three months you will have to re-register as a temporary patient or permanently register with that practice.
To register as a temporary patient simply contact the local practice you wish to use. Practices do not have to accept you as a temporary patient although they do have an obligation to offer emergency treatment. You cannot register as a temporary patient at a practice in the town or area where you are already registered.
Zero Tolerance Policy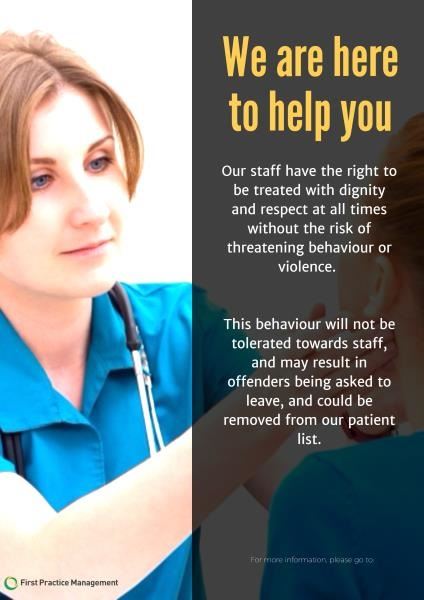 We hold a ZERO TOLERANCE policy.
We hold a ZERO TOLERANCE policy.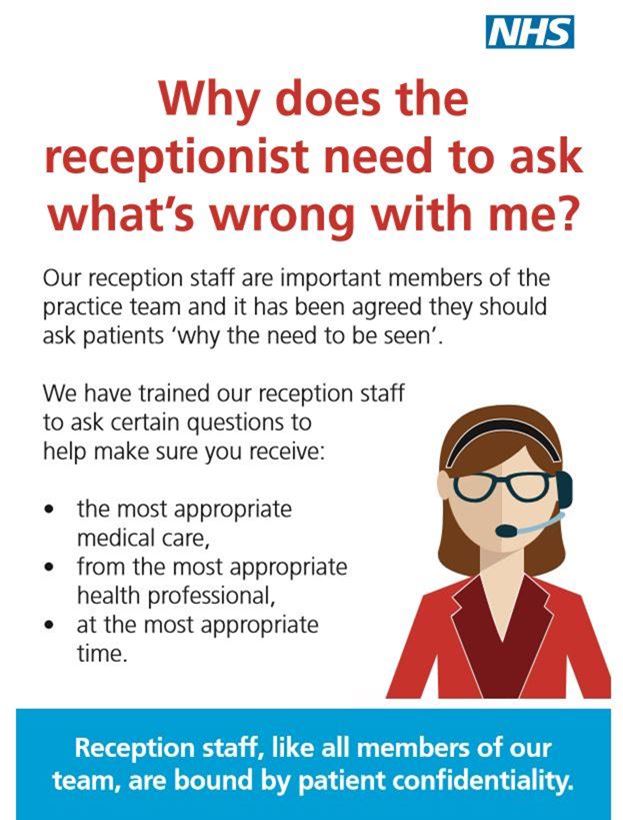 Receptionist poster
Non-English Speakers
These fact sheets have been written to explain the role of UK health services, the National Health Service (NHS), to newly-arrived individuals seeking asylum. They cover issues such as the role of GPs, their function as gatekeepers to the health services, how to register and how to access emergency services.
Special care has been taken to ensure that information is given in clear language, and the content and style has been tested with user groups.
Open the leaflets in one of the following languages:
Accessible Patient Facilities
Shelley Manor & Holdenhurst Medical Centre was adapted with accessibility in mind when the original alterations were made to the property. A survey of the premises has been undertaken and additional improvements made to ensure that we continue to meet your needs. The facilities include; sloping path to the entrance of the building including a bell if you need to assistance; lowering of postal boxes, a lift; hearing loop; disable writing pack; large print practice leaflet and disabled toilet facilities.
In conjunction with this, the staff are constantly mindful of your needs and are more than happy to assist you, so please ask. We hope that these improvements will ensure easy access for everyone visiting the surgery. However, should you encounter any difficulties whatsoever, please do not hesitate to speak with our Practice Manager or make use of our suggestion box so that we can investigate reasonable adjustments to make your visit more comfortable.