Health Advice and Useful Information for Patients
Money is tight, life is worrying and many of us haven't asked for help before. It's important to act early to prevent smaller problems turning into bigger ones.
We're working with Dorset Citizen's Advice to offer advice and support on:
money, debt and benefits
access to food
housing
support for children
mental health and wellbeing
energy, water, phone and broadband costs
employment
general help
Contact your local citizens advice centre to find out more about their outreach services
Home - Citizens Advice Bournemouth Christchurch & Poole (citizensadvicebcp.org.uk)
BCP Citizen's Bureau AdviceLine: 0808 2787 939
Their AdviceLine is open between 10am and 4pm every day from Monday to Friday (except for holiday closures).
You can read about the overall government support for the cost of living on GOV.UK
Benefits information
Maximise your income and double check your right to benefits.
Help to Claim is a national helpline run by Citizens Advice. For Universal Credit claims telephone 0800 144 8444.
Extra money for living costs with Pension Credit
Pension credit is extra money for living costs and unlocks helps with:
heating costs
NHS treatment
housing benefit
support for mortgage interest
council tax discount
free TV licence (over 75s)
This is for people over the state pension age and on a low income. Find out more about Pension Credit.
Problems paying your council tax
If you're having problems paying your Council Tax, contact us and we'll do all we can to help.

See our Council Tax pages for further advice about what to do if you have problems paying your Council Tax.
Money advice including debts and bills
Visit the Home - Citizens Advice Bournemouth Christchurch & Poole (citizensadvicebcp.org.uk) for free, independent and confidential advice.
Charitable grants
Help may be available through a charitable grant and other support, depending on your circumstances and needs. Search for charitable grants.
Get help with savings if you're on a low income (Help to Save)
Help to Save is a savings account. It allows those who are entitled to Working Tax Credit or receiving Universal Credit to get an additional 50p for every £1 they save.
Help to Save is backed by the government so all savings in the scheme are secure. Find out more about the Help to Save scheme.
Carers allowance
You could get £69.70 a week if you care for someone at least 35 hours a week and they get certain benefits. You do not have to be related to or live with the person you care for. Find out more about Carers Allowance
Carers Card providing discounts for unpaid carers
Sign up to the Carers Information Service to receive your Carers Card for discounts across Dorset including opticians, insurance, holistic treatments and eating out.
Get help to quit smoking and save money
Stopping smoking will save a lot of money and is beneficial to your health at any age. Visit Public Health Dorset or LiveWell Dorset | Health & Wellness Coaching | Free Advice & Support · LiveWell Dorset for advice and information about stopping smoking.
Household Support Fund for pensioners
If you are struggling with money and are on a low income, you may be able to apply for the Household Support Fund.
Help with your application
You can get help with your application form at your local Citizens Advice office. You could also ask a trusted friend or family member to complete the form for you.
BCP Citizen's Bureau AdviceLine: 0808 2787 939
Their AdviceLine is open between 10am and 4pm every day from Monday to Friday (except for holiday closures).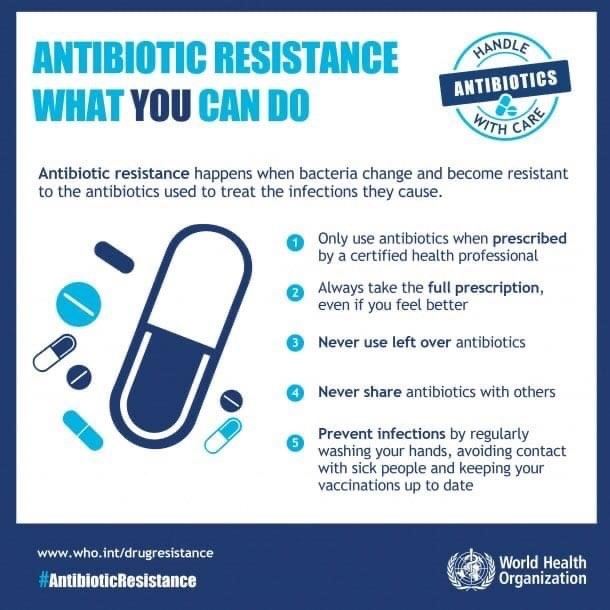 Antibiotic Resistance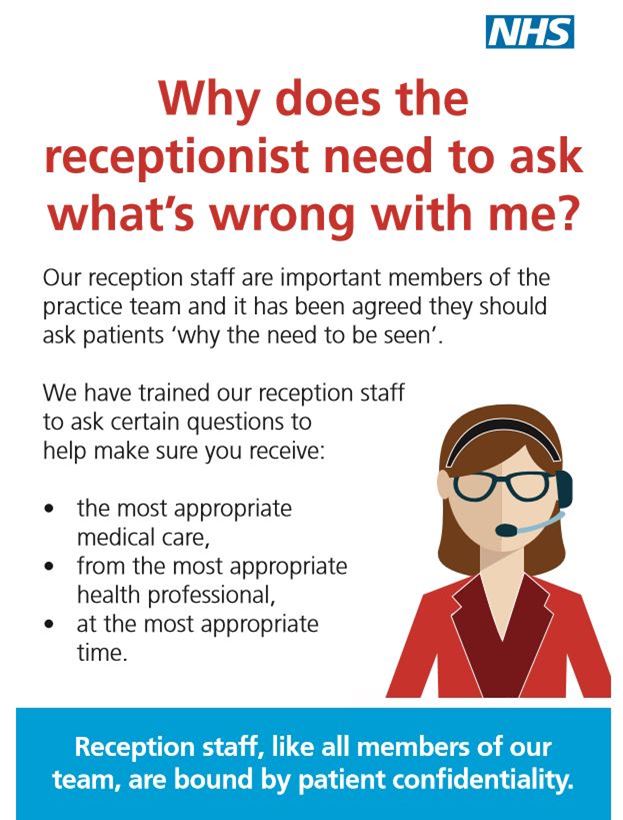 Receptionist poster
NHS 111
111 online is a fast and convenient alternative to the 111 phone service and provides an option for people who want to access 111 digitally.
Your needs will be assessed and you will be given advice about whether you need:
Treat yourself at home
Go to a Primary Care Centre
If you need face to face medical attention you may be asked to attend a Primary Care Centre.
Click here to access NHS 111 online or call 111 to speak to a staff member.
Local Cancer Support Services
Wessex Cancer Trust believes that there should be help and support available to everyone living with cancer, when and where they need it.
One in two of us will be diagnosed with cancer in our lifetime. A diagnosis can be a shock and have a huge impact on an entire family. Wessex Cancer Trust provides free and local emotional support to anyone living with cancer. Through our four cancer support centres we offer a drop-in service, professional counselling, complementary therapies, activities, support groups and courses. We also run services in the heart of the community, including our popular Sing for Life choirs and transport on our Daisy Buses to help patients get to their hospital appointments. Our ambition is a future where everyone affected by cancer receives the support that empowers them to live well with and beyond cancer.
We also have five shops across the Wessex region which stock a range of new and pre-loved fashion, bric-a-brac and household items which raise funds to support local people living with cancer.
Welcome to your Bournemouth Cancer Support Centre
You will receive a very warm welcome at the Centre, where our befriender service is always available to anyone impacted by cancer. You will be given the opportunity to seek support or just simply be yourself within a relaxing, non-clinical environment, surrounded by people who have lived experience of a cancer diagnosis themselves or someone close to them. Our centres are currently operating an appointment system for our in-Centre support services, so please call 01202 315824 to book an appointment.
We offer a variety of other services including wellbeing activities, support groups, complementary therapies and counselling. We are experienced in supporting families who have been impacted by a cancer diagnosis, including patients, loved ones and carers.
Visit us
Bourne House
23 Hinton Road
Bournemouth
BH1 2EF
When we're open
Monday – Wednesday: 10am – 1pm
Thursday: 10am – 4pm
Get in touch
Tel: 01202 315824
Email: bournemouth.centre@wessexcancer.org.uk
Accessibility
Limited disabled access
Parking opposite the Centre
Meet the team
Centre Manager: Steffi Colbert
Foster with Dorset Council - Fostering - Dorset Council
Dorset Council fostering service puts the children who need loving, local foster homes at the heart of everything we do.
Our focus is on keeping local children close to their schools, friends and birth families.
Thanks to our local knowledge, good connections to essential services and 24/7 wrap around support, we're best placed to find great foster carers for children and young people across Dorset.
Our foster carers come from all walks of life. Whether you're looking for a new challenge or simply want to use your skills and experience to make a difference, we'd love to hear from you.
Our foster carers get an extensive training and support package throughout their fostering journey that's tailored to their needs. And once you've been approved as a carer with us, you'll become part of a wider community of foster carers with access to support groups and online resources to support your growth.
We want our children and young people to:
Be safe wherever they are
Enjoy positive relationships
Know their personal strengths and qualities
Feel that their voices are heart and listened to
Be confident and successful learners who can succeed in life
We welcome applications from foster carers from diverse backgrounds to reflect the needs of the children we look after.
We welcome applications from people of all religions, sex, genders, ethnicity, age, sexual orientation and marital status.