The power of a healthcare professional's intervention
Martin from Poole was diagnosed with diabetes in 2017 and walked himself to better health. Fast forward to March this year when he visited his GP after feeling under the weather; his GP recommended he contact us to see how we could help. His story isn't finished yet, but he's taken significant steps. Read his story.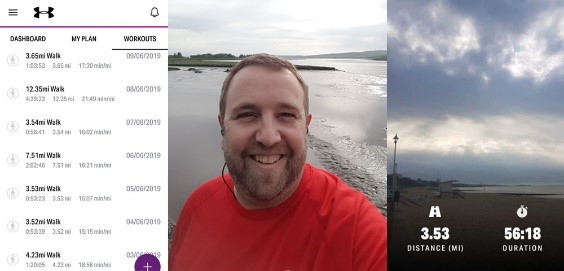 Your questions answered
We have several new resources on the Healthcare Professional pages our website to assist you. This video talks you through how we support you and your patients – ideal for introducing new staff to LiveWell. You can order printed LiveWell resources with this form. We've created a list of answers to your frequently asked questions. Lastly, we've created a tool for you to introduce us to your patient. Learn more about this below.
'Contact My Patient'
Your interventions and conversations with patients are the gateways for change. Once you've started the conversation, we can continue it in the long term. To that purpose, we've created the 'Contact My Patient' tool. Enter their phone number and/or email address and we'll send them information on how we can support them instantly. Find 'Contact My Patient' by clicking 'Healthcare Professionals' on the top left of any page of our website.
LiveWell Dorset in 2.5 minutes
Let's communicate the benefits of living well to your patients. This short animation can be downloaded and played on your waiting room TV screens, or on your website. Let's invite Dorset to LiveWell!


Find an activity
Our Activity Finder is Dorset's source of inspiration and information for new activities. Julia was browsing it one day when she discovered Walking Netball. She's found a new community; has increased her activity and made big improvements in her lung capacity.
New this summer, activity providers can submit their activity for inclusion on the Activity Finder. Do you know of a local service or group that's making a difference to Dorset's health and wellbeing? Please ask them to add their activity!
Here for you
Your local LiveWell Engagement Coordinator is ready to provide support, resources and access into LiveWell. We can provide feedback on the number of referrals and impact of your interventions. We can offer presentations, training and resources for you and your colleagues. Please do get in touch to see how we can help.