27th Jul
Dr John Bray Retirement
We would like to announce that Dr John Bray will be retiring at the end of August 2023.
He has been a GP here for 24 years and will be very much missed.
We wish him all the best for a well-deserved retirement, and he will take many happy memories of the loyalty and kindness of many patients into his retirement.
His patients will be shared amongst the other doctors at the practice, and we hope to continue with the excellent standard of care that Dr Bray provided to you.
14th Oct 2022
COVID -19 Vaccination appointments
28th Jun 2022
Opening Hours Survey - Tell Us Your Views
We are looking into the possibility of additional opening hours being made available to our patients and we would like your feedback as to what kind of services you would like to see. We would be grateful if you could take a couple of minutes to complete the survey below, as this will help shape the services available to you.
https://www.surveymonkey.co.uk/r/GZNG8GR
Thank you, SMHMC
16th May 2022
Carers - Relax and Be Pampered
- CARERS -
RELAX AND BE PAMPERED
Free indoor swimming pool and hot tub
Light lunch, cake, coffee & tea available
All in a beautiful country home
19th May 2022
DOWNVIEW FARM, WATER LANE, WINTERBORNE HOUGHTON, DT11 0PE.
10am-4pm drop in for unpaid registered carers
For further information contact Cathy on
01258 861526 or 07553033045
Pottery painting may be available for a small charge
Ring Carol for details if interested on 07712 649599
If you would like a beauty treatment please turn over for the price list.
To book treatments in advance contact Claire on
07787 774628 (text if possible) or
Kelly on 07920 269664
The Blandford Group Practice
- Treatments available -
Kelly:
Mini Facial or Back neck and shoulder massage £20 for 30 mins
Luxury Facial including Neck Massage and Skin Mask using
Organic Neals Yard Products. £35 for 1 hour
Luxury Full Body Massage, with aromatherapy oils. £35 for 1 hour
Waxing or Lash tinting can be done with any treatment.
Pedicures and manicures also available
Please ask on the day as prices vary
UNFORTUNATELY, CLAIRE IS AWAY FOR THIS SESSION.
Indian Head Massage (£30 for 1 hour)
A back neck and shoulder massage, followed by a full head and
facial massage. This totally clears any tensions or anxiety, using
aromatherapy oils. You will need to be able to stay lying down, or
sleep for 15 mins after your treatment (Ladies only please)
Short Hair blow Dry £15 for 30 mins
Dry Trim, Long Hair Blow-Dry £20 for 30 mins
Trim and Blow Dry £25 for 30 mins
Re-style and blow dry £30 for 45 mins
SORRY, THIS IS NOT AVAILABLE FOR THIS SESSION
Claire is now offering Yoga at 10am in her beautiful and comfortable
dedicated room at £8 a session. For this please bring suitable clothing.
Vouchers for treatment available
If you have difficulty in arranging for someone to be with your "cared-for"
try contacting the Leonardo Trust on 01202 698325
9th May 2022
Carers Week 2022
Carers Week is an annual campaign to raise awareness of caring, highlight the challenges unpaid carers face and recognise the contribution they make to families and communities throughout the UK. It also helps people who don't think of themselves as having caring responsibilities to identify as carers and access much-needed support.
The COVID-19 pandemic had a monumental impact on unpaid carers' lives – not only because of the increased amount of care that many provided, but because of the far-reaching effect that providing this level of care has had on unpaid carers. Many people also took on new caring responsibilities for their relatives and friends who are disabled, ill or older and who need support.
They need to be recognised for the difficulties they are experiencing, respected for all they are doing, and provided with information, and given the support they need to care safely. So during Carers Week, we are coming together to make caring Visible, Valued and Supported.
A carer is anyone who looks after a family member or friend who has a disability, mental or physical illness or who needs extra help as they grow older. Caring's impact on all aspects of life from relationships and health to finances and work can be significant. Whilst many feel that caring is one of the most important things they do, its challenges should not be underestimated. Caring without the right information and support can be tough. It is vitally important that we recognise the contribution carers make to their families and local communities, workplaces and society, and that they get the support they need.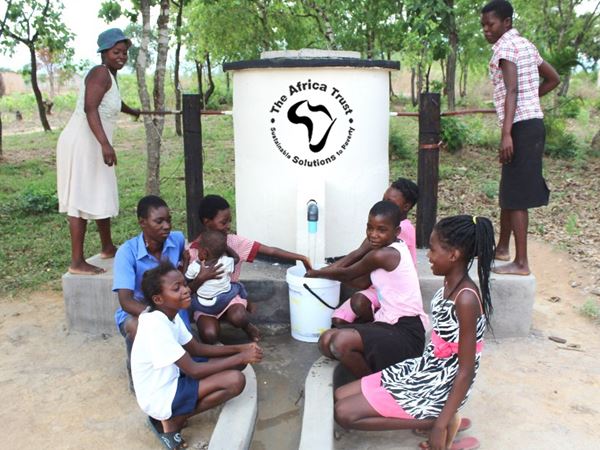 5th May 2022
AquAid Watercoolers
Here, at Shelley Manor & Holdenhurst Road Surgery, we are aware that keeping our team hydrated will aid them to perform at their very best throughout the work day.
As a result, we decided to invest in watercoolers from AquAid.
Our unique relationship with AquAid has also given our company the opportunity to help those less fortunate than ourselves, because with each purchase an automatic donation is made to The Africa Trust.
These funds are used to build 'Elephant Pumps' - a modified version of an age old Chinese rope pulley system. One such pump is currently being installed in Africa on our behalf and it will be a much needed source of clean and fresh drinking water for many.
Our organisation's name will be proudly displayed on our well and we look forward to adding a photo and a letter of thanks from the villagers to our site in the near future.
To date AquAid have built over 8,000 such Elephant Pumps across parts of Liberia, Malawi, Mozambique and Zimbabwe; and have donated in excess of £18 million to charity.
4th May 2022
Dr Andrew Blaszczyk is Retiring
We would like to announce that Dr Andrew Blaszczyk will be retiring in June 2022. He has been a GP here for 29 years and will be very much missed.
His passion for providing life-long care has meant he has had the privilege of seeing many patients grow from babies into adults and has shared in their heartache and joy along the way.
We wish him all the best for a well-deserved retirement.
His patients will be shared amongst the other doctors at the practice, and we hope to continue with the excellent standard of care that Dr Blaszczyk provided to you.
7th Apr 2022
Bowel Cancer Awareness Month
24th Mar 2022
Steps 2 Wellbeing
Worrying about things?
Feeling low or out of sorts?
Steps 2 Wellbeing can help, it's a free NHS service that offers treatment and self help when you aren't feeling your best.
It's quick and easy to get in touch.
Visit - https://www.steps2wellbeing.co.uk/
16th Mar 2022
It's Young Carers Action Day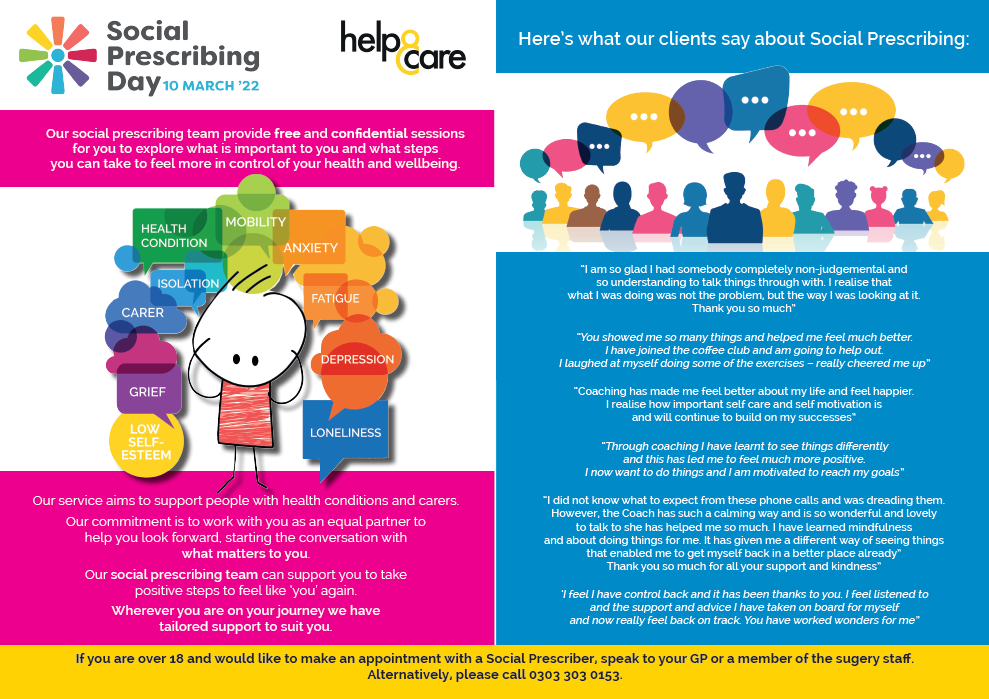 10th Mar 2022
Social Prescribing Day
Our social prescribing team provide free and confidential sessions
for you to explore what is important to you and what steps
you can take to feel more in control of your health and wellbeing.
Our service aims to support people with health conditions and carers.
Our commitment is to work with you as an equal partner to
help you look forward, starting the conversation with
what matters to you.
Our social prescribing team can support you to take
positive steps to feel like 'you' again.
Wherever you are on your journey we have
tailored support to suit you.
If you are over 18 and would like to make an appointment with a Social Prescriber, speak to your GP or a member of the sugery staff.
Alternatively, please call 0303 303 0153.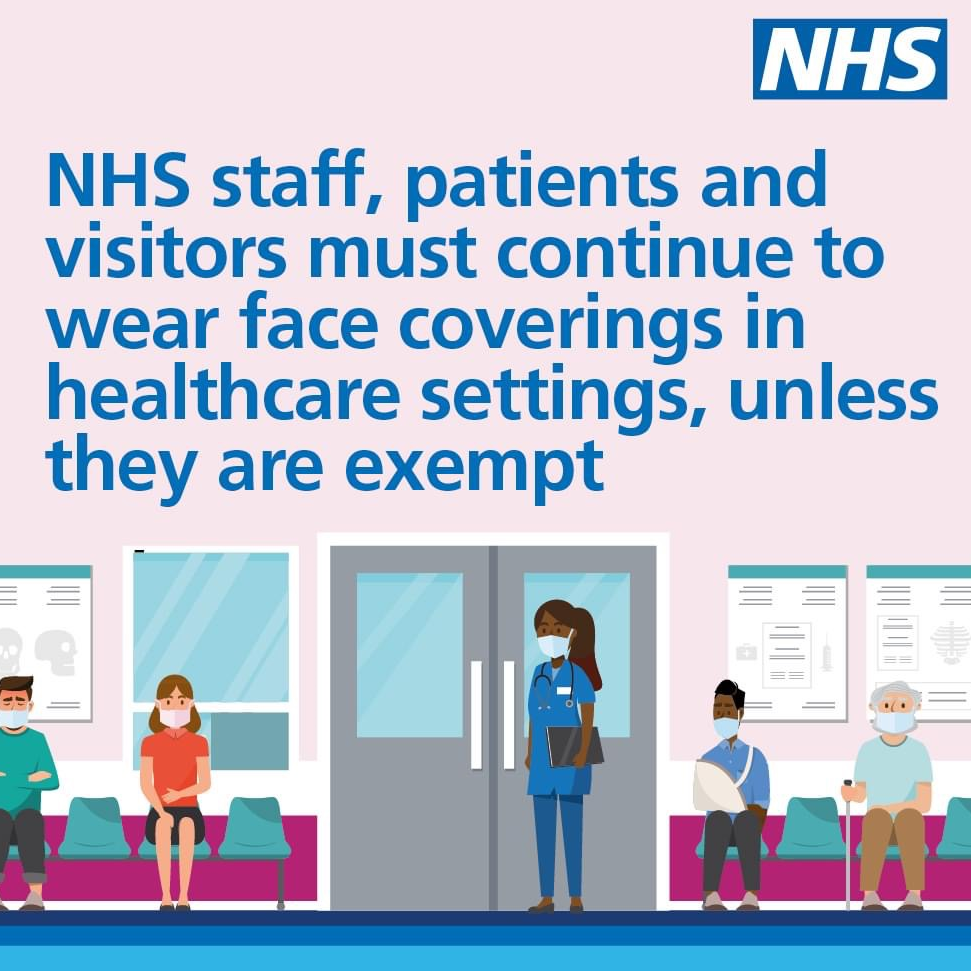 3rd Mar 2022
NHS Staff, Patients And Visitors Must Continue To Wear Face Coverings In Healthcare Settings, Unless They Are Exempt
13th Jan 2022
Parks in Mind Programme
Welcome to Parks in Mind
This programme hosts events across Dorset to encourage people to get out and about or even stay in and be social over zoom -
"Tea's up! There's hardly a Parks in Mind session that goes by without us serving tea or other hot beverage. Join us outdoors for some sociable and fun gardening, cheery nature conservation, cooking, stargazing, walks and calm meditative activities. We'll also be encouraging you to put the kettle on at home as, once again, we bring the outdoors indoors with virtual and nature-inspired arty and crafty adventures, astronomy sessions, gentle exercise and guided meditation."
See further information on their website and get involved!
https://parksfoundation.org.uk/parks-in-mind/
29th Dec 2021
We Have Launched Our New Social Media Pages
We at Shelley Manor & Holdenhurst Medical Centre want to provide the best information possible to our patients and with that goal in mind we have launched our social media pages on Facebook and Instagram. These will be the hub for practice news, updates and other useful information. So feel free to give us a like and a follow!
Facebook: https://www.facebook.com/SMHMedicalCentre
Instagram: https://www.instagram.com/smhmedicalcentre/
2nd Dec 2021
Coronavirus Booster Information
Bournemouth East Collaborative is made up of Beaufort Rd, Southbourne, Littledown, Shelley Manor & Holdenhurst Rd, Surgeries only. In spite of the recent change in policy we currently have no capacity to vaccinate anyone earlier than six months after their second covid vaccine, or those under the age of 40 unless you are housebound, a carer, healthcare worker or clinically vulnerable.
If you want to enquire about booking your covid booster please DO NOT contact the surgery but wait to be contacted by the covid vaccine team.
If it is 6 months since your second vaccine, you wish to cancel your booked vaccine appointment or have a clinical enquiry please leave a message on the vaccination answerphone – 01202 705007.
Alternative booster appointments and other covid vaccines may be booked via the national booking service at local National Vaccination hubs https://www.nhs.uk/conditions/coronavirus-covid-19/coronavirus-vaccination/book-coronavirus-vaccination/ or via calling 119.
Dorset heath care are the lead provider for vaccinating school age children.
Advice or support with regard to the covid vaccines for children may be found at https://www.dorsethealthcare.nhs.uk/schoolageimms or Tel. 01425 891162
7th Oct 2021
Why are GPs needing to work differently?
28th Sep 2021
COVID Phase 3 Vaccination Programme
27th Sep 2021
eConsult Patient Notice
Please note eConsult service is not available from Friday 6.30pm until Monday 8am.
14th Sep 2021
Patient Notice
9th Sep 2021
NATIONAL BLOOD BOTTLE SHORTAGE
A supplier to the NHS has advised us of a global shortage of some equipment used for taking blood tests.
As a result, we are only in a position to be able to continue to provide URGENT blood tests as defined by NHS England. All ROUTINE tests will need to be postponed for the immediate future. These changes will not affect the safety of patient care.
If your condition or symptoms change or get worse, please contact the NHS as you would normally.
Important changes to our routine and non-urgent blood test appointments.
As you may have heard in the news there is a national shortage of blood bottles. All GP practices are affected by the current shortage and we are taking urgent steps to prioritise their use for people with the greatest clinical need, following the recently issued national guidance. This means that currently we are booking appointments for URGENT blood tests only.
With immediate effect we will need to postpone many of the blood tests that have been booked in by phone or text message. If you don't hear from us, please come to your appointment as usual. If you have had your appointment cancelled but you feel the blood test is urgent, please contact us preferably via email smh.mc@nhs.net . Our clinicians will look at your specific situation.
Please be assured that all postponed appointments will be rescheduled once the situation has improved, and in line with national guidance. There are a few things you can do if you are affected by this change:
Check our website for updates – we will be sharing the latest patient information as we receive it.
Check your phone for messages from your GP practice.
We would be very grateful if you didn't contact us with questions about routine blood tests – all practices are experiencing exceptional levels of demand at the moment, and your cooperation will help practice staff to focus on reaching those without smartphone or internet access with this critical information.
Do get in touch with the practice via email smh.mc@nhs.net if you believe your blood test to be urgent in nature, or your condition worsens or changes so that the surgery can prioritise your blood test if necessary following clinical review.
The changes are likely to be in place for at least four weeks. We will keep you updated as the national situation changes. We fully understand the frustration this is likely to cause and apologise for the inconvenience.
12th Aug 2021
Telephone call recording
All calls, both internal and external, will be recorded for training purposes.